Research article

Open Access
The enemy within: the association between self-image and eating disorder symptoms in healthy, non help-seeking and clinical young women
Journal of Eating Disorders
2015
3:30
Received: 23 June 2015
Accepted: 17 August 2015
Published: 25 August 2015
Abstract
Background
Previous research has shown self-image according to the interpersonal Structural Analysis of Social Behavior model, to relate to and predict eating disorder symptoms and outcomes.
Methods
We examined associations between self-reported self-image and ED symptoms in three groups of 16–25 year old females: healthy (N = 388), non help-seeking (N = 227) and clinical (N = 6384). Analyses were divided into age groups of 16–18 and 19–25 years, and the patient sample was divided into diagnostic groups.
Results
Stepwise regressions with self-image aspects as independent variables and eating disorder symptoms as dependent showed that low self-love/acceptance and high self-blame were associated with more eating disorder symptoms in all groups, except older patients with bulimia nervosa where self-hate also contributed. Associations were generally weaker in the healthy groups and the older samples.
Conclusions
We put forward that older age, low desirability of symptoms, poorly working symptoms, and being acknowledged as ill, may weaken the association, with implications for treatment and prevention.
Keywords
Eating disorders
Self-image
Interpersonal theory
Age
Non help-seeking
Background
Eating disorders and interpersonal functioning
There is a growing body of research focusing on interpersonal difficulties in people with eating disorders (ED). Specific attention has been devoted to attachment, social and affective communication and the perception of self and others [1, 2], with ED populations consistently displaying patterns of insecure attachment, impaired interpersonal skills and negative self-image compared to normal controls and other clinical groups. These factors are likely to be connected to the disorder, but it is unclear if they are a result or a cause. Most previous research has however identified these deficits as risk- or maintaining factors [3–7].
Theoretical model: the structural analysis of social behavior
The Structural Analysis of Social Behavior, SASB [
8
,
9
], is a model based on interpersonal- and attachment theory, and encompasses attachment behaviors, interpersonal behaviors and self-image. According to interpersonal theory [
10
], a persons' self-image is formed in interaction with primary attachment figures and it influences subsequent interpersonal behavior. In the model, interpersonal behaviors are organized around two dimensions: Affiliation (love vs. hate) and Autonomy (control vs. autonomy). In the model there are three surfaces, each representing a specific focus of interpersonal behavior: surface 1, focusing on another person (transitive focus), surface 2, focusing on own reactions (intransitive focus) and surface 3, internalized actions towards oneself (introjection). Figure
1
shows the introject or self-image surface of the model, measuring self-treatment or self-directed behavior, with the two dimensions represented horizontally and vertically. Points along the perimeter represent combinations of the two underlying dimensions and form eight clusters. SASB self-image variables have been shown empirically to relate to attachment and social behavior in previous research, e.g. [
11
,
12
].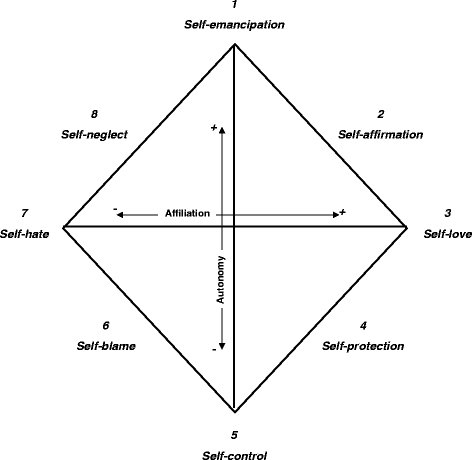 Self-image and ED
ED patients' self-image profiles are diagnostically distinct and significantly more negative than controls [14]. A negative self-image has been identified as a risk factor for ED, e.g. [15, 4], is associated with poor outcome [16] and predicts dropout from treatment [17]. In a previous study [18], we found an association between ED symptoms and negative self-image in a sample of healthy, young adolescent girls. More specifically, self-blame and, negatively, self-affirmation related to symptoms typical of ED (body dissatisfaction, eating concern, food restriction etc.). The same association, but more than twice as strong, was observed in our clinical sample of girls. ED symptoms thus seem central for self-acceptance (and/or vice versa) in both healthy girls and girls with ED.
In our previous study [18], we speculated that ED symptoms could shape and be shaped by introject variables, due to the ED mimicking being treated critically by a significant other. People tend to seek confirmation of their self-image, whether positive or negative, in interactions with others [11]. Having been treated critically might then increase susceptibility to ED, since ED symptoms in themselves would be an extension of such interactions. Subsequently, ED-related increased rejection and non-acceptance of oneself increase self-criticism generally, analogous, again, to being treated thus by an important other. In order to further investigate associations between self-image and ED symptoms, we wished to extend upon previous results through examining normal and clinical older adolescents and young adults, and also including a non help-seeking sample with high ED symptom load.
The present study
The association between ED symptoms and self-image aspects is potentially important when attempting to understand the complex etiology of ED and its psychological mechanisms. It might also contribute knowledge regarding who is at risk of developing an ED, and can give important hints about effective ways of interacting with ED patients in treatment, since SASB self-image has direct and documented associations with interpersonal behavior. The samples in our previous study were relatively young (13–15). Studying older samples may inform about the development of the association with increasing age. Mean age of ED onset ranges between 15–17.1 depending on diagnosis [19], and incidence rates are highest for females aged 15–24 [20]. Also, many transitions happen in mid-adolescence (physical, sexual, psychosocial etc.), which may influence both self-image and ED symptoms. Furthermore, ED in young adolescents is predominantly restrictive (anorexia nervosa, AN, or restrictive type atypical presentations), with relatively few cases of bulimia nervosa (BN) or other binge-purge patterns. Studying older groups thus allows for broader diagnostic comparisons, which is important as previous research has demonstrated differences in the psychological profiles of the different disorders [21–24], including differences between AN and BN in terms of which aspects of self-image predict outcome [25]. Young age and suffering from AN also tends to be associated with denial of illness and a lower desire for help [26]. Such factors potentially influence the association between ED and self-image aspects, and therefore further warrants contrasting age- and diagnostic groups.
In addition to healthy individuals and individuals with ED, there is a large group of individuals (mainly girls) who experience sub-clinical ED problems. The prevalence of sub-clinical ED in young adult females is around 8.5 % [27], while prevalence rates for full-syndrome EDs is between 0.4 - 7.7 % depending on diagnosis [27–30]. Some sub-clinical individuals go on to develop full-blown EDs and others do not, but experiencing sub-threshold ED symptoms (dieting, body dissatisfaction, negative self-esteem) puts them at higher risk of developing an ED [31, 32]. Further, there is an estimated large population of unrecorded cases who do not seek help, i.e. who suffer from full ED but are not in treatment [33]. It is important to learn more about subclinical and non help-seeking groups, since this may inform prevention and outreach efforts (what to target, when to target it) and could provide clues about who is at risk of developing an ED; we term this group non help-seeking henceforth since our data suggested similar symptom levels to the clinical groups (see below). Also, looking at psychological profiles in terms of self-image in highly symptomatic people who are and are not in treatment, may give clues as to who is likely to seek help and who is not.
Aims
In this study we aimed to examine and compare associations between different aspects of self-image and ED symptoms in healthy-, non help-seeking, and clinical 16–25 year old females. As the age range is large and as there may be variations due to age, we examined the younger groups (16–18) and the older groups (19–25), separately. Based on previous findings, we hypothesize that the associations between ED symptoms and self-image aspects will be stronger in the clinical groups than in the healthy groups. As far as the non help-seeking groups go, we make no a priori assumptions, as the association between ED and self-image has not been investigated in such a group before. Within the clinical sample, we also look at three distinct diagnostic categories (AN, BN and ED not otherwise specified, EDNOS) within each age group. Contrasting the samples may help distinguish psychological aspects typical of the different groups.
Methods
Participants
Healthy sample
For the age group 16–18 year olds, data was collected at three selected high schools in the Stockholm region. All students aged 16 and older were invited to participate. Out of a possible 705 females, 207 (30 % response rate) completed the questionnaires. Three individuals (0.4 %) were excluded due to being outside the age group and one (0.1 %) due to incomplete data. This left 203 participants (29 %) with a mean age of 16.7 (SD = .62). Participants, aged 19–25, were recruited at Stockholm University; of 251 potential participants, 193 (76.9 %) students completed the questionnaires. Eight (3.2 %) were excluded due to missing data, resulting in N = 185 (74 %) with a mean age of 22.0 (SD = 1.84).
Non help-seeking sample
Participants were recruited via advertisements online and in a newspaper, and 138 (61 % of the sample) in the age range 16–18 (M = 16.8, SD = .75) and 89 (39 %) in the age range 19–25 (M = 21.2, SD = 1.77) completed the questionnaires. This recruitment was originally intended to produce a subclinical sample, but symptom levels (see Results) indicate that it is in fact better construed as an ill sample not in treatment.
Clinical sample
Data came from Stepwise, a large-scale naturalistic quality assurance database and data collection system for specialized ED treatment units (N = 26) in Sweden [34]. Inclusion criteria are medical- or self-referral to one of the treatment units, a DSM-IV ED diagnosis, and intention to treat the patient. At the time for data extraction (19th of March, 2015), there were 7542 patients in the age range 16–25. Out of these, 290 (3.8 %) participants were excluded due to lack of consent to research participation, 7 (.1 %) were excluded due to incomplete registration, 199 (2.6 %) were excluded due to lack of ED diagnosis, 358 (4.7 %) diagnosed with "EDNOS Other" were excluded due to the unspecific nature of the diagnosis (also, this group is unlikely to belong to the ED population; [35]), as were 231 (3.3 %) males and 73 (1.0 %) participants with missing data. The remaining sample comprised 6384 (85 %) female patients, of whom 2295 (36 %) were 16–18 years old and 4089 (64 %) were 19–25.
Instruments
Eating Disorder Examination Questionnaire (EDEQ)
The EDEQ is a 36 item self-report measure [36] used to measure eating pathology. Items focus on the past 28 days and are rated on a 0–6 scale, except for frequencies of key ED behaviors, which are assessed in terms of number of occurrences over the past 28 days. The instrument provides a global score and four subscale scores: Eating concern, Shape concern, Weight concern and Restraint. It is a commonly used instrument and has good psychometric properties and reference data [36–39]. In this study all subscales had acceptable internal consistency in all samples and age groups with Cronbach's alphas ranging between .69 and .92. Cronbach's alpha for the global scale, used in analyses below, was > .70 throughout.
Structural Analysis of Social Behavior (SASB)
This is a 36 item self-report measure assessing self-image in terms of the SASB model. It divides into eight cluster variables; 1) Self-emancipation, 2) Self-affirmation, 3) Self-love, 4) Self-protection, 5) Self-control, 6) Self-blame, 7) Self-hate, and 8) Self-neglect. Items are rated on a 0 to 100 scale indicating increasing levels of agreement. The original instrument has good internal consistency with Cronbach's alpha = .76 [9], as does the Swedish translation with alpha = .87 [40]. SASB discriminates well between psychiatric diagnoses [9, 41] including between ED, [14] and factor analyses confirm the underlying model [8, 9]. In the present study clusters were excluded when Cronbach's alphas where < .70 for both age groups in either sample. Six out of eight clusters yielded acceptable alphas (Self-affirmation, Self-love, Self-protection, Self-blame, Self-hate and Self-neglect) in both age groups in the high-risk and clinical sample, but as Self-neglect did not reach acceptable alpha in either age group of the normal sample, five clusters remained to be analyzed. In order to check our findings, analyses were however also repeated including all clusters (data not shown), but no substantial changes to the results occurred.
Structured Eating Disorder Interview (SEDI)
The SEDI was the semi-structured interview used to determine DSM-IV ED diagnoses and subtypes in the clinical sample. Patients are assessed with between 20 and 30 questions depending on which criteria that are considered fulfilled. It has good concordance with the EDE interview concerning ED diagnosis (81 %, and Kendall's Tau-b of .69, p < .001; [42].
Procedure
Healthy sample
Regarding the 16–18 year olds, letters were sent to parents informing about the aim and procedure of the study. Parents were encouraged to contact the project supervisor if they had questions. Students were primarily informed about the study by their teachers, but there was also information available on the schools' intranet and on posters around the schools. They were informed that the study concerned self-image and eating- and shape concerns. The questionnaires were filled out via a secure online connection during school hours and all participants gave their informed consent. They were also told that participation was voluntary and confidential. Completion of the questionnaires took approximately 30 minutes. The teachers and the student health care team were well informed about the study in case filling out the forms would cause worry or concern.
The 19–25 year olds were recruited in lectures, via ads around the university or via drop-in on-site (at a university department). The occasions for drop-in were announced by bulk email and on notice boards. All participants were told that participation was voluntary and confidential. Before completing the questionnaires they signed informed consent. Time for participation was about 30–40 minutes. Participants recruited in lectures received the questionnaires and a postage paid envelope, those who responded to ads emailed their address and were sent the materials, and those who dropped in completed the forms on site. All participants were rewarded either by gift certificate (approx. 15 USD) or course credit.
Non help-seeking sample
Advertisements were posted online (Facebook and relevant webpages) and in a Stockholm based newspaper. The ads called for participants in the age range 16–25 with some concerns about their shape and weight and with a wish to improve their self-esteem. Individuals who wished to participate received an email with login details and they completed the questionnaires via a secure online connection. Prior to completing the forms they gave their informed consent and had to state whether they were in, or had had, any type of treatment for eating related issues. If they stated that they had been, or were in ED treatment, they were not able to participate. This was to ensure the sample comprised high-risk individuals and not individuals with full-blown EDs. Participants were offered a place in an ED prevention program if judged to be at-risk for developing an ED, or advised to seek ED treatment if judged too ill for the prevention intervention. In terms of symptom severity, this group may have consisted of both subclinical and ill but non help-seeking individuals, but overall, symptom levels appeared to be well within a clinical range (see Table
1
).
Table 1
Means and standard deviations for SASB clusters and EDEQ in all groups
Subscales

Normal sample (N = 388)

Non help-seeking sample (N = 227)

Clinical sample (N = 6384)

16-18 (N = 203)

19-25 (N = 185)

16-18 (N = 138)

19-25 (N = 89)

16-18 (N = 2295)

19-25 (N = 4089)

Total

AN (N = 702)

BN (N = 427)

EDNOS (N = 1166)

Total

AN (N = 865)

BN (N = 1328)

EDNOS (N = 1896)

m (sd)

m (sd)

m (sd)

m (sd)

m (sd)

m (sd)

m (sd)

m (sd)

m (sd)

m (sd)

m (sd)

m (sd)

SASB 2

67.7 (22.9)

63.4 (21.0)

39.8 (23.5)

32.1 (21.7)

34.1 (22.2)

36.5 (23.8)

29.8 (20.1)

34.3 (21.6)

28.5 (19.3)

30.6 (20.6)

26.8 (18.6)

28.8 (19.1)

SASB 3

63.9 (20.6)

63.8 (18.9)

36.1 (22.6)

33.2 (20.9)

33.4 (21.1)

34.5 (22.1)

30.6 (19.9)

33.8 (20.9)

30.5 (19.6)

30.7 (20.4)

29.1 (18.9)

31.4 (19.6)

SASB 4

64.2 (18.9)

65.4 (15.8)

42.6 (19.8)

39.8 (18.9)

45.0 (20.0)

47.6 (20.3)

40.9 (19.0)

44.9 (19.9)

40.9 (19.5)

41.3 (20.0)

39.8 (19.0)

41.4 (19.5)

SASB 6

22.0 (19.2)

30.1 (21.9)

51.2 (26.0)

56.5 (24.1)

52.9 (24.6)

51.0 (25.4)

59.2 (23.4)

51.7 (24.2)

57.7 (23.0)

57.8 (24.0)

60.2 (21.9)

56.0 (23.1)

SASB 7

15.2 (16.7)

18.0 (17.6)

38.7 (27.4)

40.8 (26.6)

40.7 (25.2)

39.8 (26.2)

47.8 (24.6)

38.6 (24.4)

44.7 (24.2)

46.5 (25.1)

47.3 (23.7)

42.0 (23.9)

EDEQ Global

1.70 (1.4)

1.73 (12.0)

3.56 (1.3)

3.94 (1.2)

3.6 (1.4)

3.27 (1.5)

4.25 (1.1)

3.56 (1.4)

3.90 (1.2)

3.59 (1.4)

4.18 (1.0)

3.84 (1.2)
Clinical sample
ED professionals assessed the patients using Stepwise. Stepwise assessment is performed within the patient's third visit to the treatment unit and takes around 45 minutes. Prior to the assessment, patients receive information about stepwise and about research participation being voluntary. The assessment starts with the Structured Clinical Interview for DSM-IV Axis 1 disorders (SCID; [43]) followed by the SEDI, clinical ratings of level of functioning and ED severity and ends with self-report measures (EDEQ and SASB, followed by other instruments measuring psychiatric symptoms not considered here). During the first part of the assessment the clinician is seated at the computer recording the answers on screen with the patient sitting opposite. When filling out the self-report measures the patient sits at the computer and the clinician usually leaves the room. The Stockholm Regional Ethics Review board has approved this study (2013/82-31/4).
Statistical analysis
We present descriptive statistics on SASB clusters and EDEQ subscales and global scale in order to show how these variables varied in the different groups. The skewness of all variables was checked prior to analyses, and for variables with skewed distributions, logarithms were calculated. In the normal sample (both age groups), the logarithm of SASB cluster 7 had to be used and in the clinical 16–18 year olds with a BN diagnosis, the logarithm of SASB cluster 2 had to be used. All other variables displayed adequately normal distributions in all groups. The results were analyzed using stepwise regression with EDEQ global score as dependent variable and the SASB clusters as independent variables. We used a forward selection procedure in which, based on the p-value of F, the independent variable with the smallest p-value is entered into the model one at a time. This process is repeated until no further improvement of the model is possible. Prior to the analyses, bivariate outliers were defined as observations with jack-knife residuals beyond the critical t for p < .01, which controls for different group sizes and number of predictors. Jack-knife residuals are studentized deleted residuals distributed as t with df = n – k - 2, where k is the number of predictors [44]. This resulted in elimination of between 0.7 and 4.2 % of the participants in the different groups. Outliers were removed consecutively from the models before the Stepwise regressions were computed. With large sample sizes in our clinical groups, we risked over inclusion of predictor variables in the regression models, and we therefore only report variables contributing more than 1 % independent variance to the models and that are significant at the 0.001 level (0.01 for the healthy and non help-seeking samples due to smaller sample sizes).
Discussion
The study tested whether different aspects of self-image as measured by the SASB, were associated with ED symptoms in healthy, non help-seeking and clinical 16–25 year old females. Blame-criticism and/or love-acceptance best explained variance in ED symptoms in the expected direction in all samples and groups, with the exception of the 19–25 year old BN patients where hate also made an important contribution. Associations were weaker in the healthy groups and the older samples (not true for the non help-seeking 19–25 year olds though), but all associations were nevertheless considerable.
Conclusions and implications
Consistent with Forsén Mantilla and colleagues [18], we establish strong associations between certain aspects of self-image and ED symptoms in healthy and clinical girls. We also expand on previous work as we look at older cohorts and include a sample of non help-seeking but probably quite ill individuals. Our findings have implications for treatment of ED. For example, for young AN patients, where the association between self-image and symptoms is very strong, this needs to be thoroughly addressed and explored in the beginning of treatment. Both advantages and disadvantages of the illness need exploration, and the difficulty of changing something so fundamental for one's self-image as the ED, needs to be recognized. In order to decrease self-criticism and increase self-acceptance, these individuals should be met with openness, patience, empathy and acceptance rather than negative control, criticism and blame. As treatment progresses, the potential sense of loss of one's ED and the accompanying grieving process, also deserves attention and respect.
As acceptance/love and/or criticism are associated with ED symptoms in all groups, these aspects need attention not only in ED treatment, but also in prevention efforts. That the non help-seeking groups have the same strong associations, independent of age, is interesting and needs further examination as it may provide additional knowledge about early intervention or outreach efforts.
Declarations
Acknowledgements
The authors thank Elin Monell for assistance with data acquisition.
Open Access This article is distributed under the terms of the Creative Commons Attribution 4.0 International License (http://creativecommons.org/licenses/by/4.0/), which permits unrestricted use, distribution, and reproduction in any medium, provided you give appropriate credit to the original author(s) and the source, provide a link to the Creative Commons license, and indicate if changes were made. The Creative Commons Public Domain Dedication waiver (http://creativecommons.org/publicdomain/zero/1.0/) applies to the data made available in this article, unless otherwise stated.
Authors' Affiliations
(1)
Karolinska Institute, Department of Clinical neuroscience, Resource center for eating disorders, Stockholm, Sweden
Copyright
© Mantilla and Birgegård. 2015